Since its launch in 2013, Toronto-based studio Creators of Objects has caught the eye of discerning designers and clients who dare to embrace colour. Yet a mouth-watering palette isn't the sole reason why its individually hewn wares are so coveted; joy-making and thoughtful silhouettes are other hallmarks of a COO piece.
Co-founders Jonathan de Swaaf and Joanne Byrne describe their small-scale Etobicoke, ON. factory ­– where items are made one by one over the course of weeks – as their "creative playground". And if there was one word that could succinctly describe their output of succulent pieces, it would be "delightful".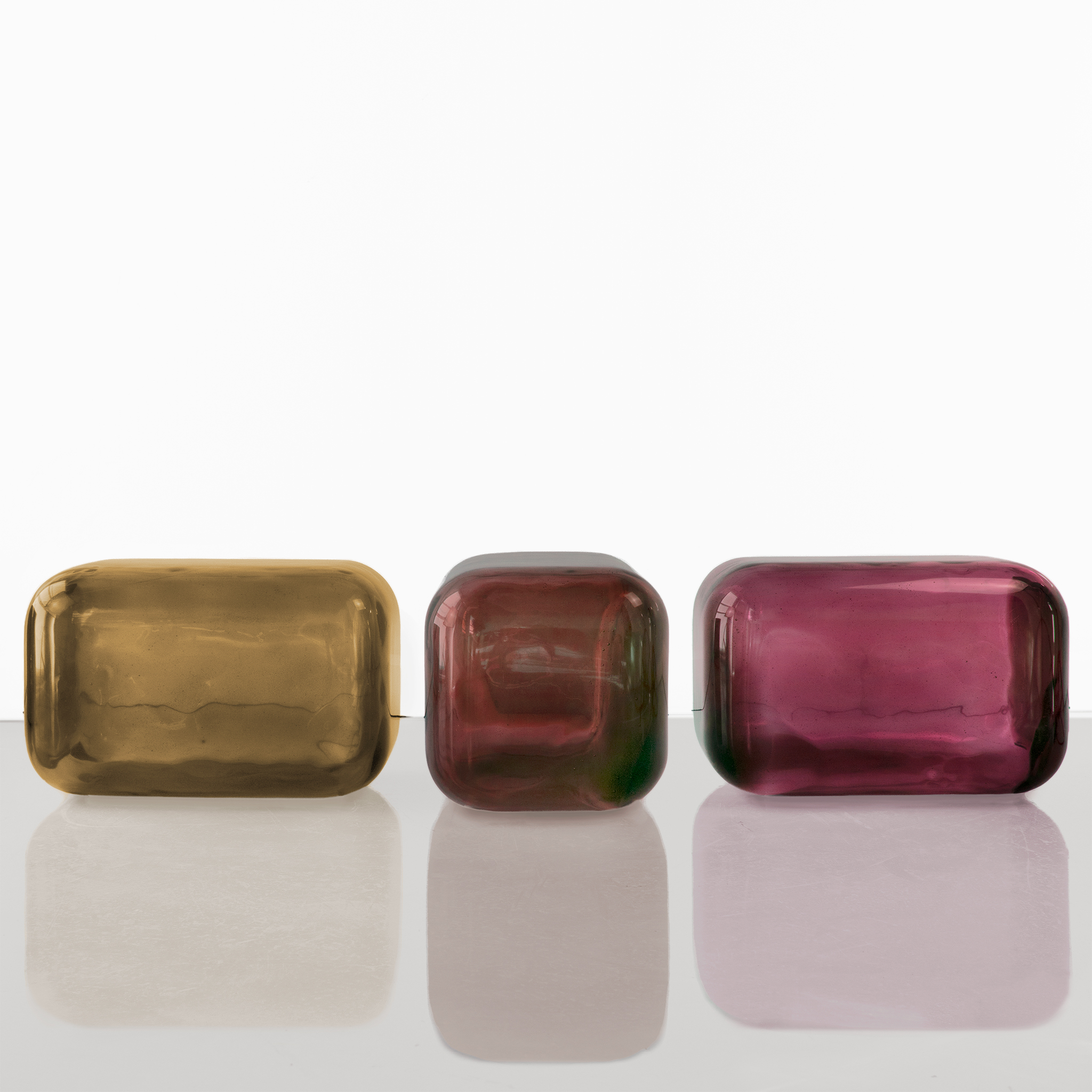 Take the studio's OORT OBJECTS collection, a selection of shapely furniture inspired by the spherical layer of objects which surrounds the earth's sun. Nodding to the great appeal of this collection, earlier this year it was named as a finalist at the NYCXDESIGN Awards.
More earthly influences can be seen in COO's GHOSTWRITER works; thoughtful and unique castings made from real books, which take on a satisfyingly spectral look thanks to the use of translucent, foggy and semi-opaque resins.
To welcome this duo's tantalizing work to the Hollace Cluny roster, and to celebrate COO's 10th birthday, de Swaaf and Byrne have collaboratively shared more about the beginnings of the studio, why they're so attracted to a rainbow palette, and how they love to see their work live in spaces.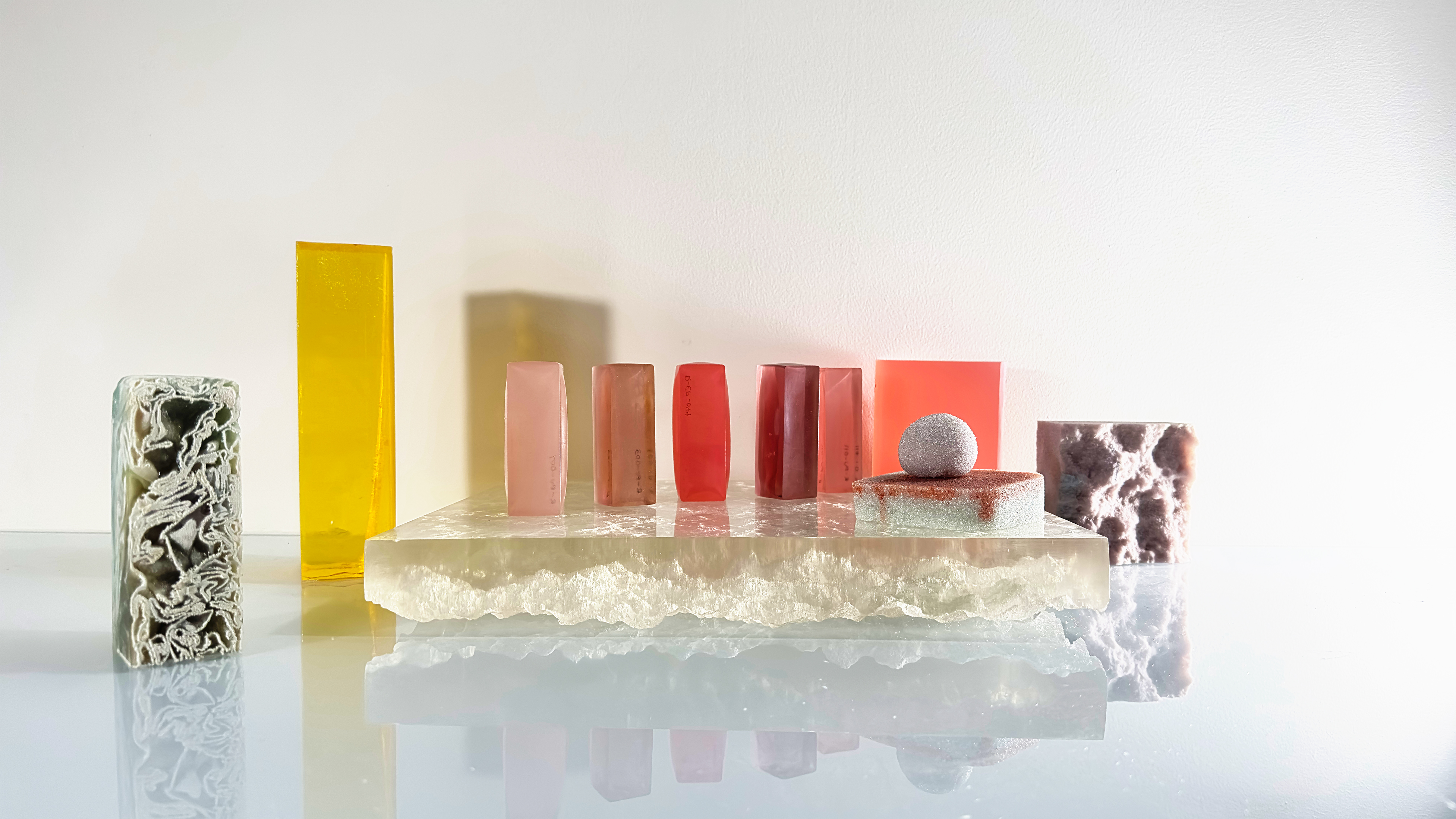 Tell us about the founding of Creators of Objects.
We worked at a commercial art studio in Toronto and became friends outside of work. It was a fun and ever-changing job that opened our eyes to the world of design, as we were exposed to styles and artistic expressions and how they were used in different environments to create unique looks – endlessly different ways of making similar spaces have their own character. Side gigs began popping up and we went on to start our own business, developing a style of our own through numerous projects. Eventually we realized it was design objects that we really were interested in. We both went back to school for industrial design and from then on, developed a methodology for making things.
What is it that you find so compelling about resin?
Resin is a material you can make into almost any shape or colour and the translucency really appealed to us visually. It's possible to create an entire piece of furniture, sculpture or decoration using this one material only. We could make things ourselves without needing to sub-out parts – it was exciting to imagine all the possibilities!
Depending on how you pigment resin, it can be bright and clear, or have a slight glow at the edges of semi-opaque colours. It's wild to see how electric a big chunk of resin can be when polished to a reflective high gloss, or how soft and mysterious a matte finished resin feels. Not many people were using it to create objects and furniture, so it seemed like an opportunity to do something unique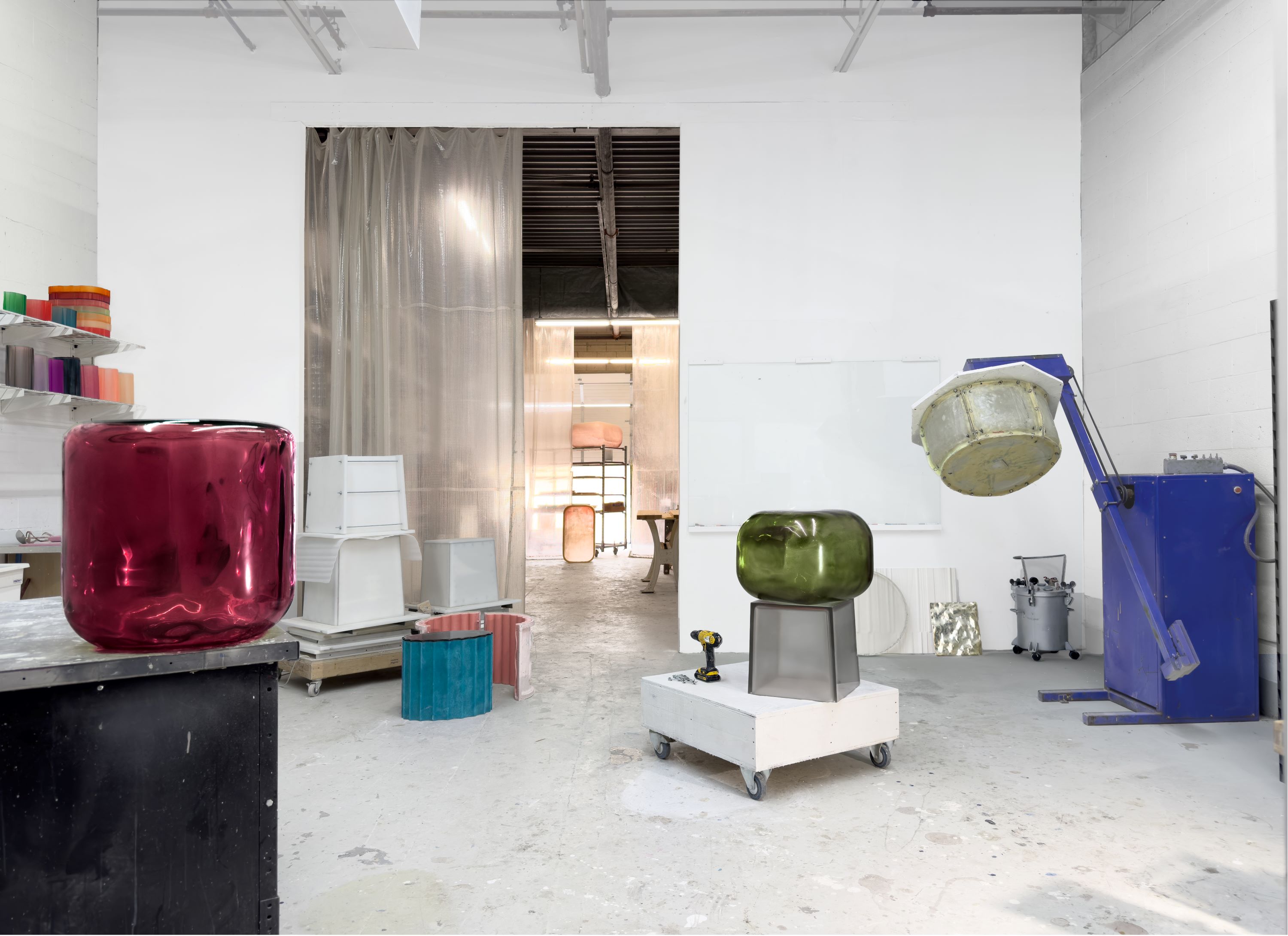 Let's talk about some of the shapes you're drawn to in your collections – thinking particularly about Ghostwriter's singular silhouettes that are ultimately crafted by
We tend to go back and forth between sculpting original shapes and using found objects. Every resin piece needs to come from a mould so the decision of what to cast from is thought through. That being said, often we jump into making something that isn't quite possible, and definitely not easy.
Ghostwriter resin books are one of our first products. Through our initial years of work we got to see inside hundreds of the most beautiful homes in Toronto, and in every one books were being used as design accessories; stacked on entry tables and coffee tables, arranged thoughtfully on shelves and sometimes colour coordinated to the rooms they were in. We wanted to play with this idea in resin. The process was to find an arrangement of various real books that went well together. We generated a method for preparing and making moulds from these books, and then cast them in various colours. In the end they are timeless objects that have all the details from their original beginnings – with a little added humour.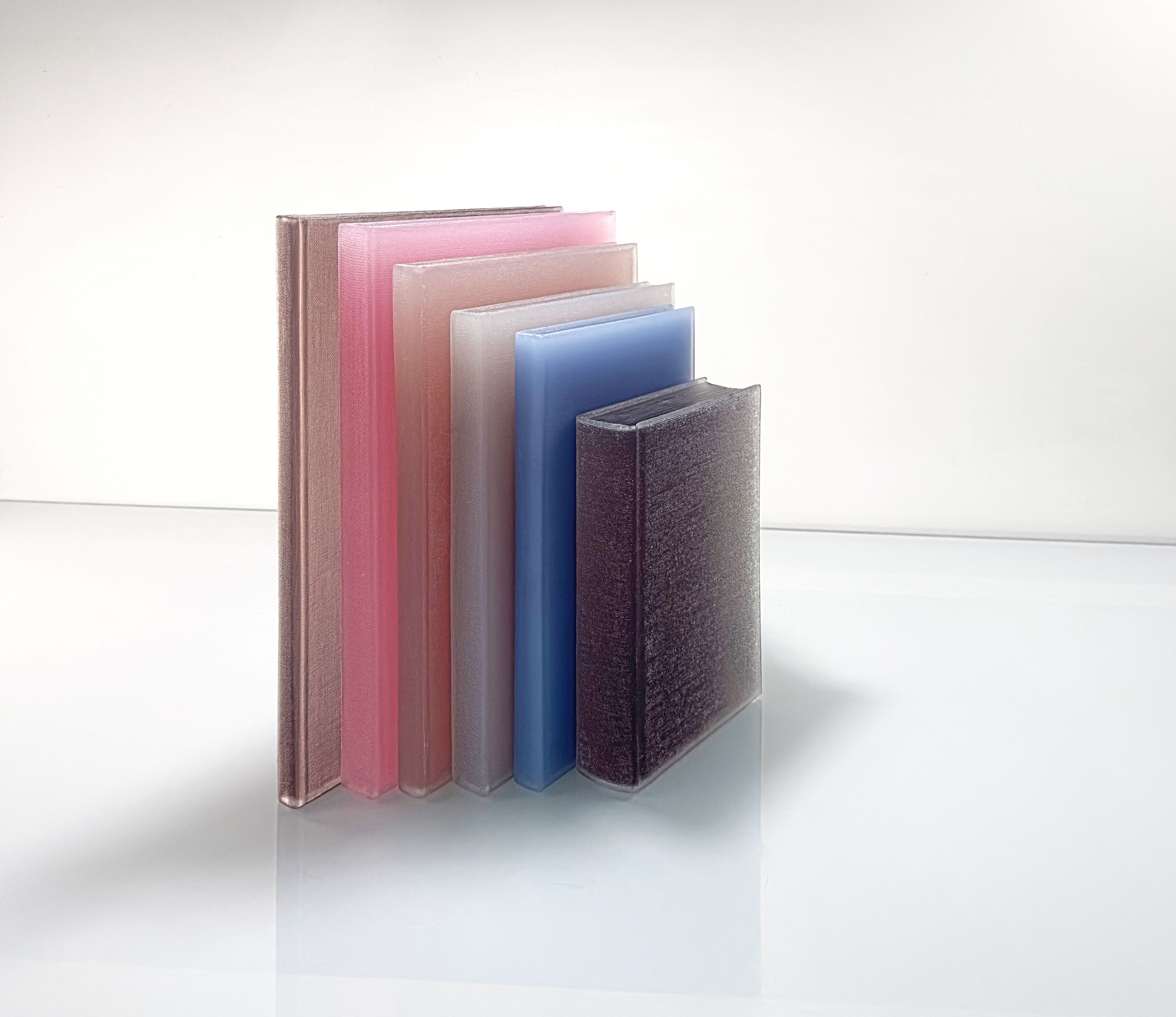 Interior design has skewed quite minimal and neutral the last few years and it's refreshing to see the joyful pops of colour used in your work. Why are you drawn to using a bold palette?
Most materials used to build are natural, like wood, stone and metal. Resin can mimic a natural palette and then there's the candy land rainbow we seem to be attracted to.
We didn't quite set out to cover the colour spectrum; it's something that evolved when we were deciding on options for the collection. With that feeling of freedom, it almost became a challenge.
Simply put, there are no bad colours – but there are great versions of all colours, which is where Joanne's minimal painter/experimental art background comes in to curate the palette and figure out the subtle yet finicky chemistry of resin tinting. We have bins of colour trials, successes and failures and a lot of different sets of dyes and pigments that have been tested.
Tell us more about the notion of "future analog", and why this approach is important for your studio.
We came up with this phrase to describe our aesthetic and process. We are drawn to minimal forms with clean lines and subtle curves, and resin itself seems to have a futuristic look, however we make things very much by hand. Pieces start out from sketches and models; we utilize available technologies when appropriate like 3D modelling, 3D printing and CNC cutting. Then each piece is finished by hand with shaping, sanding and polishing. Lately we have been exploring a variety of textures to break away from flat surfaces and soften the appearance of our pieces. All of these are hand-made and could not be produced by any mechanical means, making them fully analog by design.
What are some of your favourite ways you've seen your pieces used in residential or commercial spaces, and why?
I think a lot of clients and designers use our pieces as attention grabbers in a space. When placed well, they evoke curiosity, even a bit confusing in a fun way: 'Is it a table? Is it a sculpture? A light?…. Maybe all these things?"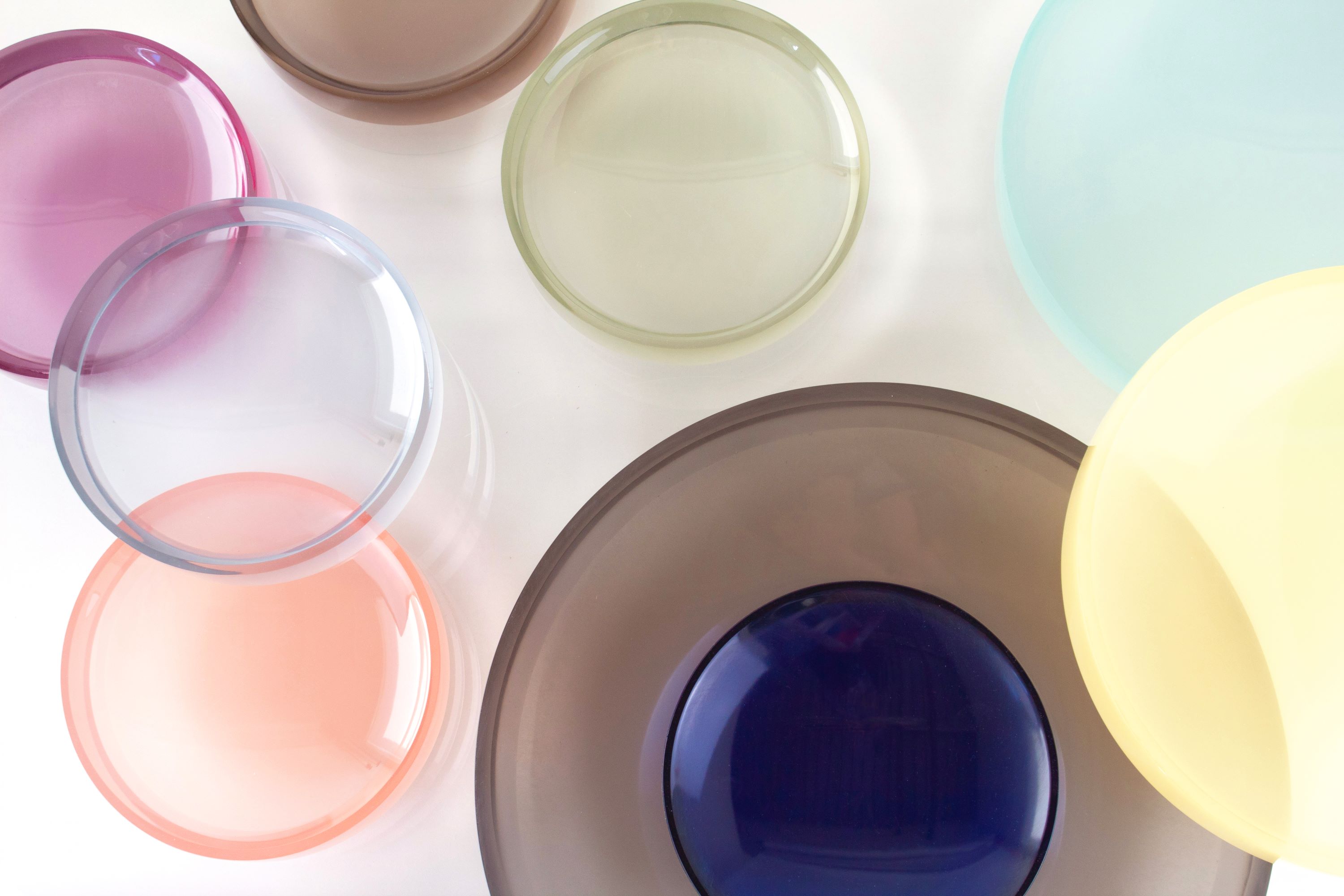 If you could see a COO piece anywhere, where would that be?
It thrills us to see one of our small pieces like a SWEETSPOT sitting on someone's countertop or entry console, being used and interacted with every day just as much as a showcased grouping of OORT OBJECTS in a beautiful residence. We'd love to have our pieces be collectible, and shown in design galleries or boutique hospitality spaces where they can be enjoyed by many.
Let's talk about your creative process; how do you two collaborate on a collection, and do you use mood boards or notebooks to share ideas?
A lot of our ideas come from material experimentation and working through projects. We try to dream up impossible things, or at least never before-seen shapes and combinations. Then we begin the long and often difficult process of engineering the pieces.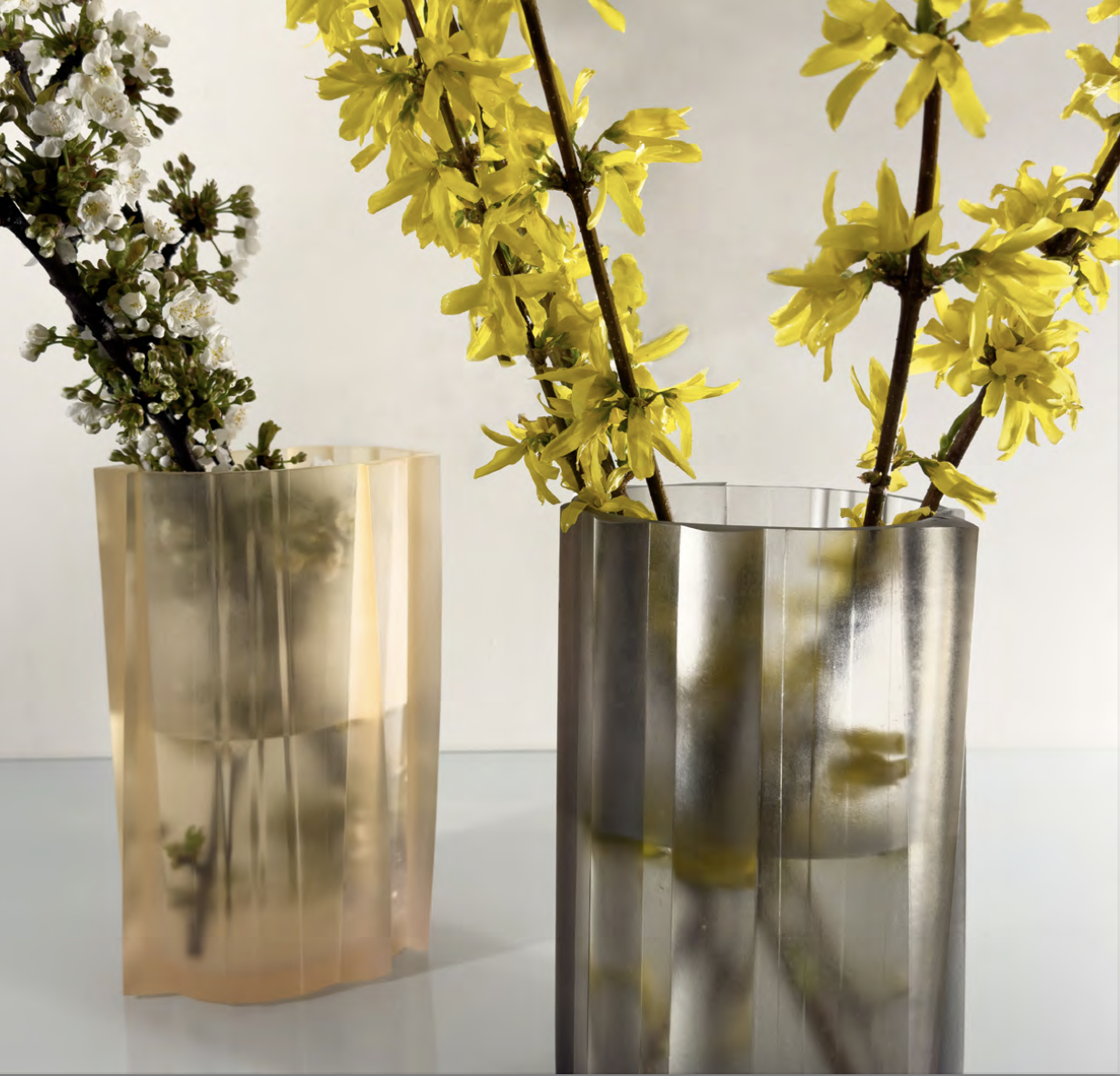 How do you keep your creative juices flowing? Anything particularly inspiring you've taken note of lately?
There is so much going on in the world of design these days. And so many talented makers trying to make a living at it. We try not to look too much at what other people are doing so we keep on track with our own vision.
Can you share anything about new projects on the horizon?
We have more ideas than time at the moment, however we have a few new products being added to our line shortly: A series of bubble ledges made with rotocast glass bead and resin; a resin and concrete dining table; a pillowy series of forms; and a bench/seat/table. We're also making a 30' long textured resin tunnel – that's all backlit – for a local cocktail lounge.