Award-winning artist Pascale Girardin has developed a practice which navigates the nuances of process while investigating the effects of human interactivity with natural materials. The Montreal-based ceramicist – whose recent projects include large-scale installations at Printemps Hausman in Paris and the Four Seasons Place in Pudong, Shanghai – introduced two exceptional new collections at the International Contemporary Furniture Fair in New York City this past spring.
Dunes is a lighting collection made in collaboration with product designer Maud Beauchamp, who is also the project manager at Atelier Pascale Girardin. These quietly elegant works possess a quality of suppleness which reflects the ephemeral, organic forms found in desert landscapes. And Girardin's Figura II series is an evolving, sculptural exploration of the themes of belonging and identity, which she first began to develop in the first series in 2020.
We are pleased to offer these new collections at Hollace Cluny and to celebrate their arrival, Girardin shares details about her foray into ceramics; her intimate inspirations; and why it's important to collaborate.
How did your interest in ceramics begin?
It took me quite a while before I ended up doing ceramics; I started when I was almost 35-years-old. When I was in high school, I was very athletic and my father was also an athlete, so I thought that I might study kinesiology later in university. There's a lot of physicality that comes through in my ceramic practice. But I didn't really know what I wanted to do when I was younger. A lot of artists say they've always been able to draw or were known as the artist in their class. I also had that title as a child but I thought, 'That's for another type of person'.
I went into health sciences in CEGEP (the two years between high school and university), and then decided to go into biology at university because it seemed fun and easy. I could imagine myself getting into ecology, as I really liked nature – there's a link there that you can start seeing happening in terms of my work now.
During this time, though, a lot of my friends were encouraging me to pursue art, so I applied and got into Concordia's Studio Arts program which covered disciplines like painting and drawing. I did feel like an imposter my first year because I had really been into science and sports before – those were my "things". Even just learning to develop my own ideas seemed so weird to me. But I went through my years of painting and drawing, and I would pass by the ceramics department in Concordia's Fine Arts building. I found it quite intriguing once I caught a glimpse of the teapots that some students were making, and that sounded really fun to me. I applied for the ceramics program but because it was so small, I wasn't able to get in.
Fast forward to a few years later when a friend of mine recommended a one-year intensive ceramics course that taught people how to be proper potters. There was government funding available for those who wanted to go back to school and learn a trade; my son was very young at this time, and I was lucky enough to be able to take that 12-month program and I loved it.
When I think about it now, I consider how physical ceramics is, and there's also a lot of math, physics and even chemistry when it comes to creating glazes. Mixed in with the creative aspect, my past experiences have served me well.
So after finding this fit, how did you start to develop your point-of-view as an artist?
It ties back to the notion of nature. The material used in ceramics is natural and very sensitive to the touch; whatever you do to clay will have an impact, depending on your approach. There's a consideration of how you use your hands in relationship to it. As with all art forms, there's a relationship to the material and the tools.
When someone says that nature has an influence on my work, it's because we are nature. We tend to forget it, especially when you think of a word like environment; it's like we've decided there's us and then there's nature, and that's something that I bring back into working with clay. I am aware of my own physicality and how I want to approach my movements – how I'm going to touch the material, and being predictive of how the clay is going to respond to it. That takes years of practice until you start understanding the process.
I now make fewer gestures when I'm working and find I'm getting a bit more thoughtful. Even if I'm simply mixing clay glaze pails, there's a movement to the dipping – and I'll be thinking about how the liquid behaves, as well as how I can use my body in a certain way so that everything kind of flows.
My ideas really come from just getting my hands in there and seeing what's happening during the process; a meaning starts to emerge, and I can start moving forward. I'm not a conceptual artist in that I rarely work with sketches and drawings – I mostly work directly with the clay.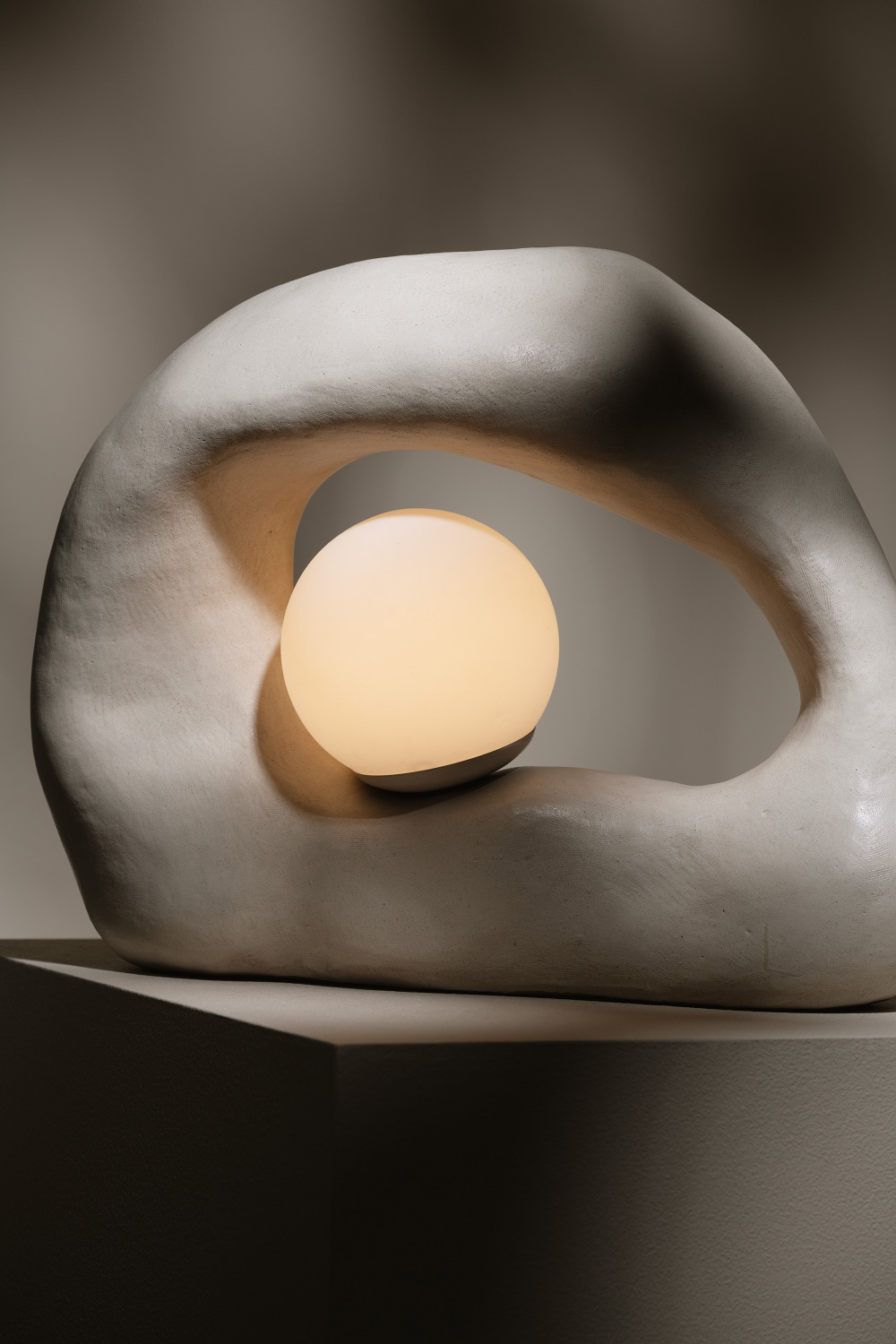 Let's talk about your reference points for a collection like Dunes, which was made in collaboration with Maud Beauchamp. It's such a dreamy collection.
Maud is my studio's project manager, and we've known each other for 13 years now. It was easy to work together because we trust each other's aesthetic. She initiated the idea of doing lighting, and suggested a round bulb and a colour scheme. I started thinking about how the bulb reminded me of the moon, and from there the direction of a moonscape, or landscape, appeared. I took some clay and started building around the bulb shape. It was quite spontaneous; I really liked the idea of enveloping the bulb and seeing what would happen.
We called the collection Dunes because of the colour scheme, which makes me think of sand, and the softness of it. I'm also reminded of the desert with these pieces – especially the Mojave Desert, which is my happy place. It's very open and there's a certain silence to it, which I love.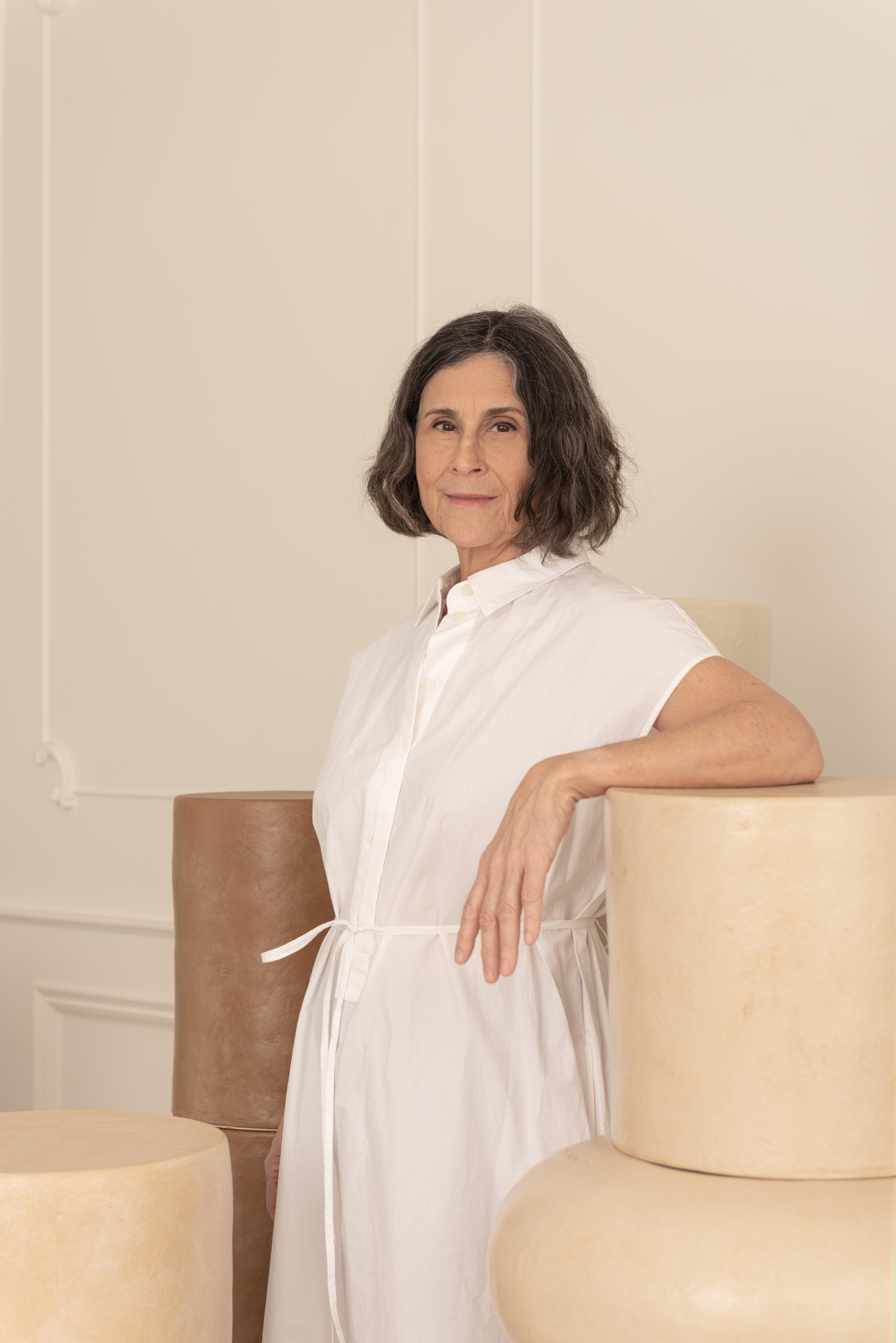 And what about the Figura II series?
The first Figura series came out of a simple request to have pieces for a show I was supposed to do with the Canadian Creative Collective from Montreal. We were going to show in Milan in March 2020, and it didn't end up happening for obvious reasons. But for that project, we were asked to make larger pieces and the timing was very short as I got the request in December. But I was up for the challenge.
At first, I was thinking about how to make tall pieces that could be stacked, so I was working with very simple shapes like cylinders. As I began to have more time during the holidays I added more curves to the shapes, and more volume.
As I would carry these pieces around the studio to put them on tables, I started thinking about the idea of 'the embrace', because I would have to make that gesture while I was moving them around. It started to remind me of the embrace that caregivers have with children, and that feeling of comfort.
When I was finished working on the first series, I had to give it a title. I thought the pieces had a totemic quality although I knew very little about the word, other than its Ojibwe origins. I reflected on its meaning throughout the process of making the pieces and came to view the idea of a totem in its broadest sense; as physical manifestations of people's origin stories – who we are and with whom do we belong. There are totems all over the world, and this notion triggered another thought process for me in terms of belonging and rootedness and identity. My family moved around quite a bit when I was young. My sister and I speak to each other in English because of our time spent in the United States, but our parents are Quebecois. So my identity is not necessarily American, but it feels very different from our Quebec roots. To a certain point, I understand the feeling of otherness and what it means to not belong to a place or a social group.
The figures from the first series are black and for the second series, I worked on developing colors that were more earth toned; they recall our connection to the earth. Essentially, this project is about inclusion by highlighting what we have in common, which is the need to belong to a group, a place, a history.
Art is such an important way to examine these concepts, and the more temporal qualities to life and to nature. But in creating an object, one would hope that it's going to mean something to someone for a long time. There's an interesting juxtaposition there.
It's true. We're still finding ceramics 6,000 years later at the bottom of the Mediterranean. You've got to think twice before leaving a trace.
You mentioned your collaboration with Maud earlier – can you tell us more about your Atelier?
I used to do a lot of tableware and projects for high-end restaurants. I got to meet some of the chefs and hang out with them, and I would look at the way they structured their kitchens; I would see all these people working for the same goal. It seemed wonderful to have a team working towards generating a broader vision.
When people don't understand what I do in terms of my Atelier, I give them the example of a choreographer. A choreographer knows how to dance but they don't want to dance all the dances. I decided that I didn't want to be the one who's juggling everything. It doesn't feel right – it was too exhausting.
It takes a while for culture to change around the idea of what being an artist can be. And I think that is something that I've felt quite confident about, but I have been challenged over it.
Right, there's that idea of the solitary artistic genius….
Exactly. And sometimes I do need to take my alone time in the studio to work through things. But I would have a hard time being alone all the time and trying to produce ideas, one after the other. Ceramics is also so process-oriented, and I love the rhythm between the inception of an idea and the actual execution and finality of it. I don't feel like I need to turn up new and exciting things every three months, for example. I'd rather see things along and have a lifetime of creating.